>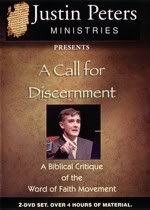 The Martyn Lloyd Jones Trust are now stocking Justin Peters A Call For Discernment DVD which features 4 hours of teaching.
I recommend every church to get Justin Peters to speak at your church, or if you can't do that then watch the 4 DVD sermons which give a Biblical Critique of the Word of Faith Movement, as a church or in groups.
If you have a church book table, then this is an item to add, and pass around your church.
Every Christian should watch this DVD. It is excellent teaching that exposes the dangerous doctrines of demons that heretics like Kenneth & Gloria Copeland, Joyce Meyer, Benny Hinn, Joel Olsteen, Jesse Duplantis, and the rest of TBN/God TV/Word of Faith teach.
Buy 2 Disc DVD 4 hours teaching for just £16.
If you're in the U.S.A then you can buy from Justin Peters website here.
If you're new to Justin Peters then you can watch the 30 min introductory video here.
If you're in Southern England, then Justin Peters is speaking in Kent this Monday at Union Chapel, Bethersden. Get yourself down there!